Contact Info
Azuli Language Solutions
Morgan Lange
PO Box 64151
Tucson, AZ 85728
Phone: 520-402-7076
Contact via Email
Photo Tour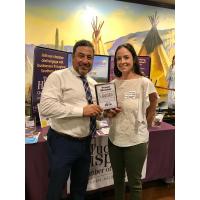 Services
Translation
Interpretation
Transcription
Editing
Proofing
Public Speaking
Hours of Operation
By appointment only
About Us
English & Spanish Translation & Interpretation Services
Morgan Lange at Azuli Language Solutions is dedicated to providing the highest quality translation and interpretation services to clients in the Tucson area and beyond. Quality and accuracy during important communications are essential to your family's safety and your business' success. Working with a trained and certified translator/interpreter is the only way to ensure you receive the very best language products and services.
Tucson Hispanic Chamber Members: contact me for a FREE consultation!
TRANSLATION
.
Any written text can be translated.
Let me help you expand your business' reach by translating your marketing materials, website, business and legal communications, and more. Notarized and certified translations available for legal purposes upon request. I work from English into Spanish, and Spanish into English.
Is your website or other text already bilingual? Not sure if it's accurate? I'll review your existing site or text and provide you with an objective analysis of its accuracy (spelling and grammar) and readability (does it make sense and convey your message correctly?). Remember: text that has been translated by a bilingual person is
not
the same as that which has been done by a
trained
and
certified
translator. Hint: text should never be translated word-for-word.
Commonly translated texts include:
Websites
Marketing and outreach materials
Advertisements
Legal and medical documents
Contracts
Business communications and documents
Scientific and technical documents
Books, pamphlets, and journals
INTERPRETATION
.
Any spoken word can be interpreted.
If you, your family member, or your business associates need help communicating with limited-English or limited-Spanish clients, patients, colleagues, etc., let's see how I can assist you. You'll be shocked at how much smoother things go when working with an interpreter.
Are you currently doing business with individuals or businesses across the border, or wish you could? There are already enough barriers to successfully closing a business deal - don't let language be one of them. I adhere to a strict code of ethics to ensure confidentiality, accuracy, and impartiality. Again, remember that asking for help from a bilingual friend, family member, or colleague is not the same as working with a
trained
and
certified
interpreter. This is particularly important in medical, legal, and business settings.
Interpreters are often used for:
Legal purposes including interviews, depositions, court proceedings, etc. I am a certified interpreter through the Arizona Supreme Court.
Local or international business communications including interviews, meetings, calls, lectures, presentations, etc.
Medical appointments and consultations
Conferences
OTHER SERVICES
English and Spanish transcription (audio or video recordings converted to written text)
Proofing and Editing
Bad writing costs American businesses nearly $400 billion a year. Don't risk losing valuable customers by publishing or sharing written communications before they've been reviewed. With a keen eye and sharp attention to detail, I'll take your writing from good to perfect!
Contact me
today to assist with all of your language service needs.