Contact Info
AUTO LOGIC LLC
Dan Beiswenger
796 Myer Dr
Sierra Vista, AZ 85635
Phone: 520-417-2505
Email:
autologicaz@hotmail.com
Website:
www.autologicaz.com
Photo Tour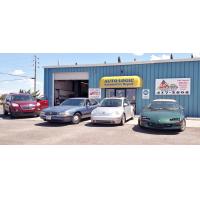 Hours of Operation
Monday- Friday 7:30 AM - 5:00 PM
About Us
AUTO LOGIC
Auto Repair & Maintenance Services Sierra Vista, AZ
Auto Logic has been proudly providing quality auto repair in the Sierra Vista and Fort Huachuca, AZ area and surrounding communities since 1998.
We pride ourselves on our customer service and attention to detail. We strive to ensure customer's satisfaction, while carrying out auto repair services your vehicle, making sure it is right the first time, using quality parts to insure the long life of your vehicle.

We understand the importance of a quick turn-around when it comes to auto repair, and pay special attention to minimize your down time.

Auto Logic is your dealership alternative to perform your scheduled maintenance without voiding your vehicle's warranty right here in the Sierra Vista and Fort Huachuca, AZ area.

We keep accurate records of all maintenance services performed without paying the outrageous prices at a dealership.

When we perform an oil change on your vehicle, is not just a "drive thru" service. Our professional technicians at Auto Logic perform a thorough inspection, allowing us to advise you when problems are arising before they become a bigger and more expensive repair so you can make the informed decision of when or if you decide to take care of them.

We take pride in hiring only trustworthy, knowledgeable technicians and staff that mirror our company's philosophy. We use the very latest in automotive diagnostic and repair technology to ensure that your car is repaired right, the first time.
Our focus is on our commitment to providing exceptional auto service at reasonable rates to our valued customers in Sierra Vista and Fort Huachuca, AZ. With some of the most experienced technicians in the Sierra Vista and Fort Huachuca, AZ area. We understand how to maximize mileage without sacrificing handling or safety.
At Auto Logic, we are dedicated to providing quality service for all your foreign and domestic auto repair needs. Don't let car troubles keep you from your daily routine.
CALL US TODAY TO MAKE AN APPOINTMENT!